I blab on and on all the time about wanting to get out there and do stuff. Well, today we did! We picked a trek out of my Marin Mountain Biking book. It started at Point Reyes Bear Valley Visitors Center. First a 3.5 mile "easy" mountain bike leg on a fire road. There was a pretty steady incline about 1/2 way through that I couldn't survive. I had to get off my bike and walk for a few hundred feet (that wasn't fun ). At 3.5 miles we parked the bikes and hiked a mile out to see the ocean. Hiked backed for a total of a 2 mile hike and then rode back 3.5 miles to the visitor center. The ride back was stupendous, I was grinning ear to ear the whole time and just having a grand ol' time. I made it up a pretty steep little incline (steeper but shorter than the one on the way in) by standing while pedaling. It felt so good riding back. Max speed was about 16 miles per hour at one point. Wheeeee!
I have to share pics. These are from the lookout point we hiked to. Enjoy!
Here I am next to the ocean: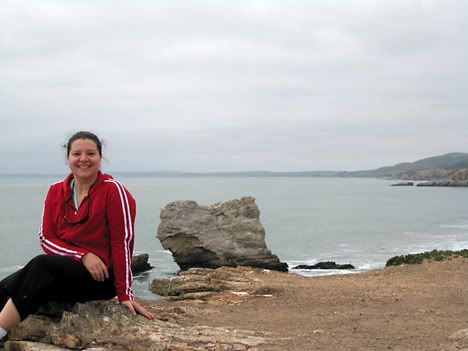 And with Miguel:
By the time we got home (about a 40 minute drive) I was feeling chilly and a tad sore so I hopped in a hot bath. I'll sleep well tonight I'm sure. Anyway, what a day!! Honestly, I have the best husband. He was so encouraging and just plain fun to be with. Hope everyone here is out having fun adventures too!