I'm sitting on the plane in Long Beach, waiting to start our flight back to the Bay Area. Dinner at Ruth's Chris Steakhouse was great! I had a Seared Ahi appetizer that was incredible. It rivaled a seared ahi I had in Florida once. Very tasty and probably pretty healthy. Miguel had a bowl of Lobster Bisque that was so creamy and tasty. It tasted like Lobster Butter/Cream Soup, just so rich. I had quite a few spoonfuls of that.
For my entrée I had a petit filet and grilled jumbo shrimp. Oh, and Onion Rings Plus lots of yummy foods being passed around - mashed potatoes, sweet potatoes (which tasted like pie filling, so sweet), a few bites of salmon, etc. And desert. Miguel and I shared a banana cream pie desert. Very tasty and again, very rich. Lord knows how many calories I consumed but in the points tracker the meal added up to 28 points, which would be around 1400 calories. I wouldn't be surprised if it was quite a bit more in reality.
Here's a picture of my grandparents at dinner...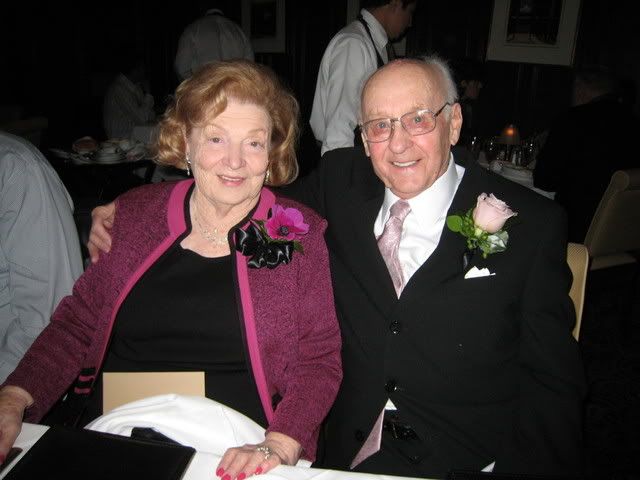 Aren't they just the cutest? 65 years together and still going strong. They had four children and 8 grandchildren and now a batch of great-grandchildren. My Nana was telling me how they had the smallest wedding cake due to sugar rationing when they got married. They've seen a lot these two.
So, it was worth a few (hundred) calories to help them celebrate the milestone. The good news is I went to the gym yesterday and earned 5 activity points. I don't usually eat APs but I did yesterday. I needed 'em. And, in general, I made better choices than in the past. I skipped alcohol, which would have been more calories and decreased my judgment. I know I ate less because I walked away without that stuffed feeling. I made healthier choices; in the past I would have ordered the Rib Eye instead of the Filet and the fried Calamari instead of the Seared Ahi. Better choices, plus exercise, plus a really nice meal out which I got to indulge in and enjoy - not a diet, a lifestyle.
Still deciding if I'm going to the gym today. Just depends on how I feel after being home for a while. Getting up at 4am has left me a little sleepy but we'll see.
UPDATE: I made it to the gym! I'm so glad it stays open until 7pm on Sundays. I closed the place down finishing up my stretching right at 7. I did hanging leg raises actually hanging from those arm things! I'm very excited about that. And my C25k Week 2 Day 4 was pretty much a cake walk (!!). I feel great. I'm so glad I went. Gym days again tomorrow and Wednesday and let's hope that means a loss on Thursday. I have to eat really clean too since I used all my extra points at dinner last night.